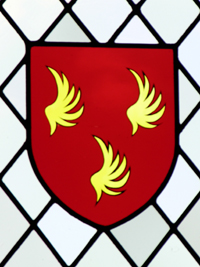 In the Middle Ages, the lord, owner of the manor, had many rights. He demanded that his vassals mill their wheat to his mill. The Aubonnière mill still operated until  the beginning of the century and was probably located at the site of the old spinning. The Lord was also paid a tax on the bread that had to be baked in his oven, at the back of the court. He could also claim the right of "colombage", his dove including 54 pigeonholes, each corresponding to a property of approximately 3 acres or 350 poles (the equivalent of a present hectare). Noble hostel and "Seigneurie", depending on the Baron de Mareuil et Vieille Tour, under the tribute of the Lord of the Roches Baritaud who had a right of average and low justice and a Registry (Archives de la Vendée, B128).
In the fifteenth century, the "Aubouinnière" belonged to Jean Samin, lord of the Saminière. His daughter got married to Jean Foucher in 1392, Lord of Les Herbiers. Gilette Foucher received l'Aubouinnière on her marriage contract with Jean Chasteigner, Lord of Breuil Challans, on September 23rd 1450. She made her donation on March 11th 1470, before the notary of Saint Gilles-sur-vie. (Sources: Duchene, Histoire des Chasteigners, p 169 – Généalogie Foucher pp. 11 and 13). During the sixteenth century, l'Aubouinnière was given to the Boutaud, lords of the Aubouinnière-des-champs, near Sainte Péxine, probably because of Louise Foucher, wife of William Boutaud, Esquire in 1482. It subsequently went to Pierre Girard, lord of the Aubouinniere in 1696, and Charles Girard, Lord of l'Aubouinnière Bois-Clos, Rochereau, le Fief Leigé. The latter came to trial in 1734, and was buried in the Church of Chaillé on March 16th, 1755. (Sources: Dictionnaire Historique du canton de la Roche sur Yon published by Y. Guerny with the collaboration of Gilles de Maupeou Mayor Venansault).
More recently, l'Aubonnière was divided into two farms. The first floor was used as common granary, large beams and joists spaces, capable of supporting heavy loads. In the late 1970s, the main building in a state of ruin was bought and restored somehow by a local association which transformed it into lodging. On the outside, adjacent to the same Logis, a pond was implemented in the valley, overlooking the Vallée de l'Yon.